For Students
How do I find a faculty mentor?
Empowering Creativity, Celebrating Achievement
Once you've identified your interests, the next step is to search for faculty who are working in these areas at UNM.  A great first step is to think about the professors who have taught your favorite courses.  You can then look them up in their individual UNM department website to read more about their work.  Below are screenshots of a search example from the Anthropology website, but you can do a similar search for faculty with any department at UNM.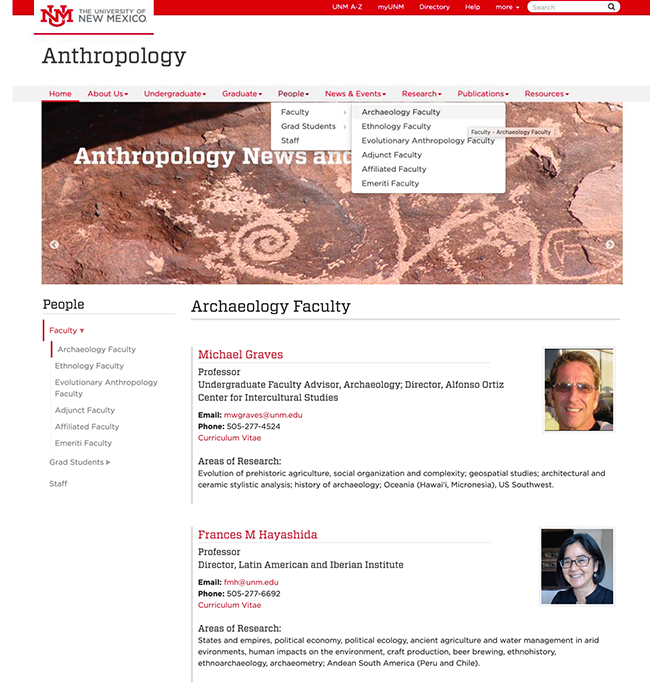 You may not find EXACT matches right away, but you likely will find faculty with similar interests.  Keep digging further to look at what published work they have and if they have an individual website by doing a general web search of their name next.  The more you learn about them, the better prepared you will be to talk with them about the work that they do! 
You may notice different titles for faculty at UNM and wonder what do they mean?  Here is a guide to help you:
Assistant Professor: Full-time, Tenure-track position, they will teach and do research
Associate Professor: Full-time, Tenured position, they will teach and do research
Professor: Full-time, Tenured position, they will teach and do research
Research Professor: Full-time, they will generally focus on research, but may not teach
Emeritus Professor: Retired professor with distinction, they may or may not be significantly involved in teaching and/or research
Postdoctoral Fellow: Has earned PhD, generally focuses on research
Adjunct, Instructor, or Lecturer: Could be part-time or full-time. These titles may vary from department to department, but generally, their primary duty is teaching
Graduate Student: A Master's or Ph.D. student/candidate
Learn about faculty research
Now that you have identified faculty who work in areas of interest to you, your next step is to read their published scholarly work. You don't need to become an expert on their research but you do want to have a good sense of the kind of work they do before contacting them.  Also, reading published research is a large part of becoming a researcher, so you want to start building these skills of getting comfortable with reading challenging material now.
Here are a few tips to find and read scholarly articles:
Ask a Librarian. This service allows you to chat or text with a librarian, M-F, 9-5.  You also can schedule a one-on-one appointment with a subject librarian in your area of interest to talk more in-depth about a particular article.
Use your UNM library resources to access the full-length articles
Once you find articles, read the title and abstract very carefully. Take the time to look up all the unfamiliar words and write down their definitions.
It is normal to struggle with these articles. They were likely written by PhDs for other PhDs.  Be patient and don't worry if they feel difficult!
Look at the section titles to get familiar with how the paper is organized
Jump to the Conclusion/Discussion section to understand the big picture of the paper and what the major findings were
Then scan through the other sections of the paper (Introduction/Methods/Data Analysis, etc.) quickly. You do not need to understand these fully right now.  There will be a lot of unfamiliar information in them, don't get discouraged or bogged down here
Make notes (just a few sentences) on each article that you read. You may want to consider using a citation manager, like Zotero, to stay organized with your notes.  When it comes time to meet with faculty who were authors on these papers, you will be glad that your notes are organized and easily accessible!
Other Library Resources: Did you know…
Contact and meet with faculty
Your next step is to schedule a time to talk with the faculty you identified in your searches to have a conversation about their work and your interests/goals.  Even if they end up not being the right match for you, they can recommend other faculty members for you who may be a better fit.  All of these meetings will help you to build your academic network and your confidence in talking with faculty members.  You will want to consider attending one of our workshops on interacting with faculty to be as prepared as possible for these meetings.
If the faculty you're planning to contact is a current instructor of yours, feel free to use their office hours to have this conversation.  For other faculty, who you have not met yet, it is likely you will use email for this first outreach to them.  Look at the helpful hints below to write a successful email to faculty.
Tips for writing professional emails to faculty
DO start either with "Dear Dr.___" or "Dear Professor____"
DO use your UNM email account
DO be succinct in this email and briefly cover the following points
Introduce yourself with your major and year in college
Let them know you have looked at their published work and are interested in what they are doing
Request a brief meeting to discuss your research interests and their work in more detail
Offer specific days/times to make it easier for them to say yes to meet. Try not to offer small chunks of time (Mondays from 8:30-9am, Tuesdays from 1-2pm) but rather offer larger blocks to be more flexible (Mon 1-4pm, Thurs 8-12)
DON'T ask for a job/research position in this initial email
DON'T make the email too long. Faculty are busy and it is easy to see a long email, skip it for now and then forget about it
DON'T use slang or texting abbreviations, keep your language professional
DO send a personalized email to each faculty – no generic, mass emails
DO contact us at urad@unm.edu if you need help crafting or editing your emails to faculty
Be Prepared
You should be checking your UNM email daily and always respond within 1 business day
You have already read articles, taken notes on them and have given some thought to what you want to study. Prepare a list of questions to ask more details about their current work.
Don't worry, you are not expected to have everything all figured out at this point, but you do want to show them that you are interested and prepared
During the meeting
Talk to them about why you are interested in this subject,
Ask for articles/more reading you should do
Ask if there are other people at UNM who you should talk to
Have something to write on and with to take notes (you may be nervous and it will be easy to forget the details of what was discussed)
At the end, thank them for their time and for meeting with you
After the meeting
Write a short email within 48 hrs, thanking them for their time and any resources they have given you
---
Students Getting Started
Contact
Email:  urad@unm.edu